(Kevin Hagen for The Wall Street Journal) Emmanuel Perrotin poses for a portrait in the New York branch of his gallery, Galerie Perrotin, among sculptures by Paola Pivi. Mr. Perrotin, 45 years old, is well-regarded in the art world for being quick to identify emerging talent. (Andrew Hinderaker for The Wall Street Journal) New York Police Department Commissioner Raymond Kelly holds an AK-47 recovered in an undercover operation during a news conference on Thursday. Two men were charged with illegally selling more than four dozen guns to an undercover detective. (Keith Bedford for The Wall Street Journal) A guest communicates through gestures while participating in a four-course silent dinner at Eat in Greenpoint, Brooklyn on Sunday. It was a pilot run for what the restaurant hopes to make a monthly event. (Keith Bedford for The Wall Street Journal) Seferino Cotzojay, assistant winemaker at Bedell Cellars, loads harvested grapes into a crusher on Wednesday. Mr. Cotzojay has been working at Bedell since 2005, when he answered an ad for a worker that had been posted in the local paper. (Gordon M. Grant for The Wall Street Journal) Michal Litwiniec, left, Marek Otwinowski, Pawel Czepukowski and Igor Gawlikowski, members of the Polish group Karbido, rehearse at their musical table, which has a bass attachment and hidden strings. The group performs in the U.S. for the first time this week. (Keith Bedford for The Wall Street Journal) Participants in Harlems African American Day Parade are pictured Sunday.
Some people even paid line-sitters by the hour to grab an early spot. Why the fuss? For the first time, Apple ( AAPL , Fortune 500 ) is offering two new iPhones: the flagship 5S and the cheaper, plastic iPhone 5C. The iPhone 5S is similar in appearance to last year's iPhone 5. The new device is faster than its predecessor, however, and it features hardware upgrades like a beefed-up camera and a processor that measures motion data. The iPhone 5C comes in several different colors. Related: YouTube videos of lines at Apple Stores around the world The flagship iPhone 5S wasn't available for pre-order. That annoyed Lance Smith, a fan who was one of the first 100 in line in Atlanta's Lenox Square shopping mall. "That's the only reason I'm in line, so I can get it on day one," he said. "They definitely screwed it up for a few of us by not preselling the 5S." Others brushed off that inconvenience, focusing instead on the new features. Ana Ramirez, who began waiting on line in New York at 4 a.m., said she was excited to try out the new Touch ID fingerprint sensor on the 5S. "I get the iPhone every year. It's just the best phone, hands down. Apple made it, so I know it will be the best," she said. iPhone fans wait for hours for the new 5S Not everyone waiting in line will get an iPhone on Friday.
New iPhones draw lines around the world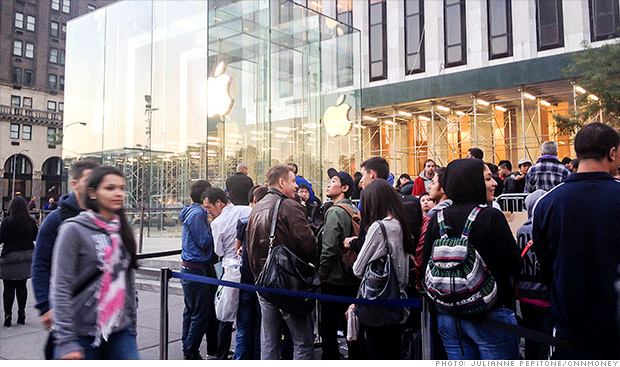 Well, whos Bill? And then you realize shes talking about her husband. It happened so infrequently that you were kind of like, Oh, the president. 4. Right now, the Bill and Hillary Clinton are taking part in just ordinary, everyday pleasures. For the first time in decades (seriously), neither of the Clintons holds a public office. So what, exactly, are two of the most powerful, celebrated, talked-about minds of a generation doing? We get to be at home together a lot more now than we used to in the last few years, Hillary said. We have a great time; we laugh at our dogs; we watch stupid movies; we take long walks; we go for a swim. You know, just ordinary, everyday pleasures. This sounds like something that needs to be seen to be believedmaybe a reality show will be in their future. New York even quotes Clinton as saying theyre trying to have the best time we can have doin what were doin. Dropping gs sounds kind of Palin-esque, no? But, seriously, what are the Clintons talking about? 5. WTF is "Ready for Hillary" then? If you love Hillary Clinton, maybe you should rethink those Ready for Hillary bumper stickers or Facebook likes.